Notable Contracts*
City of Glendale, AZ - Munis ERP
City of Augusta, GA - iasWorld
Kendall County 911, IL - New World public safety
Helix Water District, CA - ExecuTime and Munis
City of Liberty, SC - Incode
Maricopa County, AZ - Brazos

Tyler announces its 2Q 2017 earnings.
Read more.

Philadelphia, PA, selects Tyler's mass appraisal solution. Read more.

Tyler to provide Odyssey case management and statewide e-filing to Vermont. Read more.
"Tyler Talks" Featuring the New World Public Safety Team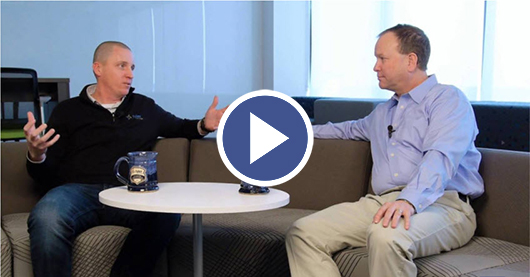 The Public Safety Division's Chief Operating Officer Bryan Proctor and Vice President of Sales Craig Nelson sit down to discuss public safety market trends. This seven-minute video discusses how Tyler is developing its solution to meet the evolving needs of its clients in the public safety industry.
RECENT ACCOLADES
Forbes ranked Tyler No. 22 on its Most Innovative Growth Companies List for 2017, a collection of companies that investors could expect to be innovative now and in the future.
Government Technology magazine included Tyler on its second annual GovTech 100, a list of 100 companies focused on and making a difference in – and selling to – state and local governments.

Tyler CFO Brian Miller explains the impact of Tyler's recent acquisition of online dispute resolution leader, Modria.
On May 30, 2017, Tyler acquired Modria, a company specializing in online dispute resolution (ODR) for government and commercial entities, to complement our courts and justice, and appraisal and tax solutions.
The Modria platform will allow us to provide courts with an alternative process, enabling a more rapid, efficient, and inexpensive ODR process than traditional legal procedures.
Our initial discussions with court clients who use Tyler's Odyssey software have been extremely positive. We are already in discussions with several courts who are interested in piloting Modria's solution, and we believe there is also an opportunity for Modria outside the U.S.
While we expect Modria's operations will not have a material impact on Tyler's revenues or earnings in the near future, we are extremely optimistic about the long-term opportunity to create a meaningful recurring revenue stream from ODR similar to our role in facilitating e-filing for courts.