Notable Contracts*
Collin County, TX – Odyssey Supervision
Whatcom County, WA – EnerGov
Kalamazoo Co., MI Sheriff's Office –
New World (public safety)
McLennan Co., TX – Tyler Verify
South Carolina Department of Transportation – Versatrans
City of Signal Hill, CA – Incode (financial)

Tyler and Samsung to develop offerings for public safety agencies.
Read more.

Illinois courts to use Tyler's re:SearchIL portal for improved access to court records. Read more.

Tyler's eFileTexas solution achieves filing milestone of 20 millionth envelope.
Read more.

San Bernardino County Sheriff's Department goes live with Tyler's SoftCode.
Read more.
Serving the Public Sector Amid Disaster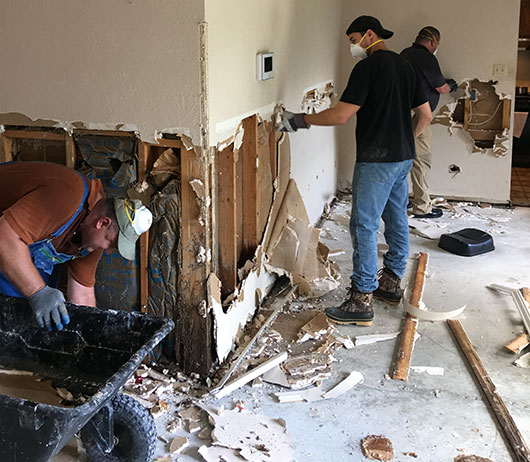 More than 800 Tyler clients were affected by Hurricanes Harvey, Irma, and Maria this fall. Prior to each storm, our disaster recovery team proactively reached out to the 269 Tyler clients with contracted disaster recovery services who were in the path of the storms. We heard countless stories from clients who were able to rely on their Tyler solutions during this time of crisis. For example, the Missouri City Fire and Rescue Department in Texas performed 1,400 high water rescues and worked around the clock for days. Their Tyler software continued to perform dependably and they were able to assist nearby jurisdictions. Before, during and after events, our team works with affected clients to make sure they can manage their critical business processes.
Additionally, many Tyler employees aided in relief efforts by donating to the American Red Cross, and a group of employees from Tyler's Incode public safety implementation team collected and delivered donated goods in coordination with the Texas Municipal Police Association Emergency Response Team. They also assisted the Cajun Navy with house demolition in areas affected by Hurricane Harvey.

Tyler CFO Brian Miller comments on a frequently asked question from the investor community: "Do you see a trend of clients preferring subscription versus license agreements?"
We believe that over time, our mix of new business will continue to shift toward the cloud. That shift has generally been very gradual over the last few years, but has accelerated in the last two quarters, with subscription agreements accounting for approximately 40 percent of the contract value of new software deals in Q2, and 50 percent of the contract values in Q3.


However, the mix is affected by several factors, including the timing of large deals, which are more often on-premises. We expect the mix of license and subscription deals to vary from quarter to quarter.


Regardless of the model under which our clients choose to access our software, we're pleased that our win rates continue to be strong and that so many new clients are choosing solutions from Tyler.