Notable Contracts*
Paducah Police Department, KY – New World (public safety)
Ontario County, NY – Munis
Proviso Township School Trustee, IL – Infinite Visions
Athens County, OH – CLT Appraisal Services
Choctaw Nation, OK – Odyssey

Tyler launches asset management solution, Tyler EAM.
Read more.

Clark County Court in Nevada live with Tyler's Modria solution. Read more.

Tyler expands Odyssey case management solution in Australia.
Read more.

2018 Tyler Excellence Award winners announced.
Read more.

Tyler launches Socrata Connected Government Cloud solution. Read more.
Delivering Connected Communities
An Interview with Tyler President & CEO Lynn Moore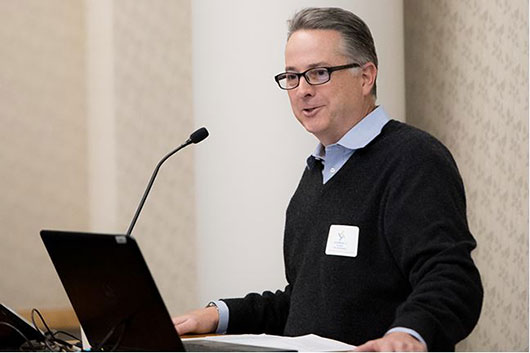 More than 4,600 public sector clients attended Tyler's annual user conference, Connect 2018. We talked to Tyler's President (and recently named CEO) Lynn Moore about some of the key topics at this year's conference.
After introducing Connected Communities at Connect last year, what developments has Tyler made to further this vision?
Moore: A core tenet of Connected Communities is making sure we offer best-of-breed products. In 2018, we're expecting to spend nearly $60 million in new product research and development. We also introduced a new user interface, which our Munis, Incode, and EnerGov products are already using. Finally, with the recent acquisition of Socrata, Tyler's products will be able to offer improved data management to our clients and enable them to participate in data sharing, a key component of Connected Communities.
Can you tell us more about Socrata's offerings for the public sector?
Moore: Just a few weeks ago, Tyler announced the launch of the Socrata Connected Government Cloud, a revolutionary approach to internal data sharing. This solution will empower government workers to access a single source of data and securely share analysis, visualizations and performance measurements across multiple departments and programs.
What new products or solutions were clients excited to learn about at Connect?
Moore: Tyler EAM was one product that clients heard a lot about at Connect. This enterprise asset maintenance solution provides a complete view of an organization's assets - from procurement to maintenance to retirement - as well as citizen engagement. Additionally, mobility applications were a big topic in the public safety space. These applications are making it easier for first responders to access crucial information from tablets, smartphones, and even smartwatches.

Tyler CFO Brian Miller discusses the impact of the company's recent acquisitions of Socrata, Inc. and Sage Data Security, LLC.
Both the Socrata and Sage acquisitions are a little different from the "tuck-in" acquisitions we've primarily done in the last two years. These offerings apply broadly across all of Tyler's existing business units and products – Socrata with an advanced "data-as-a-service" platform, and Sage with a network level cybersecurity offering.
While these acquisitions broaden our client base to an extent, they don't represent a fundamental change in our focus on the public sector. Socrata has focused recently on the "Government 500" – larger government entities including the federal government, states, and large cities and counties. They will continue to pursue opportunities with large governments while leveraging Tyler's extensive client base to expand more broadly across local governments. Sage will also continue to serve clients outside of the public sector, but we expect the vast majority of Sage's growth to come in the public sector, particularly with Tyler's existing client base.
The M&A market has been challenging recently from a valuation standpoint, but we've always been patient in our approach to acquisitions. Socrata and Sage are great examples of our patience paying off in allowing us to acquire companies we know will be strategic fits at fair valuations. We've revised our revenue and earnings guidance for 2018 to include these two acquisitions for the remainder of the year, which added about $26 million of non-GAAP revenues.