Notable Contracts*
City of Des Moines, IA – EnerGov
Town of Norwood, MA – Munis
Cameron County Sheriff, TX – New World public safety
Linn County, IA – Incode financials
Medina County Sheriff, TX – Incode public safety

Tyler expands re:Search portal to New Mexico.
Read more.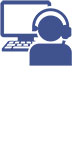 Oldest police agency in the U.S. goes live with Tyler's public safety solution.
Read more.

Tyler acquires CaseloadPRO.
Read more.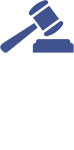 First Texas county goes live with Tyler's SoftCode CivilServe solution.
Read more.

Tyler acquires MobileEyes.
Read more.



Introducing the New TylerTech.com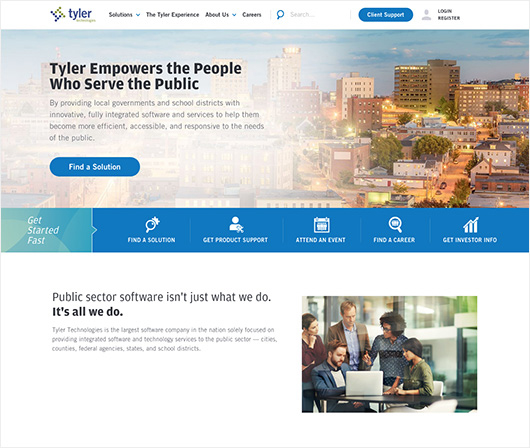 We officially launched the new and improved TylerTech.com! Our new website was designed with the end user in mind to offer better navigation of our wide breadth of products and services. Following a comprehensive, four-phased approach that involved research and strategy, requirements gathering, visual design, and a site build, the new site is more accessible, modern, and helps existing and potential clients find the specific information they are seeking, based on their location and jurisdiction type.
You may have already visited the new TylerTech.com to see these changes. Investors can expect to have access to the same materials and information that were available in the previous version of the site, including press releases, investor presentations, earnings-related news, and annual reports. Quick access to investor information from the homepage is part of the "Get Started Fast" menu.


Tyler CFO Brian Miller comments on the impact of Tyler's recent acquisitions of CaseloadPRO and MobileEyes.
Tyler recently completed two acquisitions that further strengthen our product offerings. On September 4, we acquired CaseloadPRO, which provides a fully featured probation case management system. Its SaaS criminal justice software is used by sheriff, probation, pre-trial and parole departments. Adding CaseloadPRO supplements our courts and justice offerings with a more robust solution for the supervision market and further strengthens our Tyler Alliance initiative.
On October 1, we acquired MobileEyes, which provides SaaS solutions for fire suppression and fire prevention, primarily to fire marshals and fire prevention departments. Adding MobileEyes strengthens our public safety suite, as well as our licensing and permitting solutions.
These acquisitions are consistent with our strategy of seeking opportunities to add best-of-breed companies and products that complement and strengthen our existing offerings for the public sector, and to do so at reasonable valuations. Both companies are relatively small, and these deals will not have a material financial impact on 2018 results; however, they are expected to grow within Tyler at rates in excess of our core organic growth. We continue to evaluate an active pipeline of potential acquisition candidates, while remaining disciplined regarding valuations and strategic fit.