Notable Contracts*
Hall County Schools, GA – Munis
Liberty County, TX – Odyssey
City of Mt. Vernon Police Department, NY – New World public safety
City of Franklin, WI – CLT Appraisal Services
McLean County Unit District No. 5, IL – Infinite Visions
Liberty County Sheriff, TX – Incode public safety

Tyler announces its fourth quarter 2018 earnings.
Read more.

Franklin County, OH, signs with Tyler for appraisal services.
Read more.

Tyler's Socrata Open Expenditures brings transparency to Nassau County, NY.
Read more.

Fulton County, GA, helping resolve small claims online with Modria.
Read more.

Georgia counties go live with Tyler's re:SearchGA portal.
Read more.



Moving Beyond Smart Cities to Connected Communities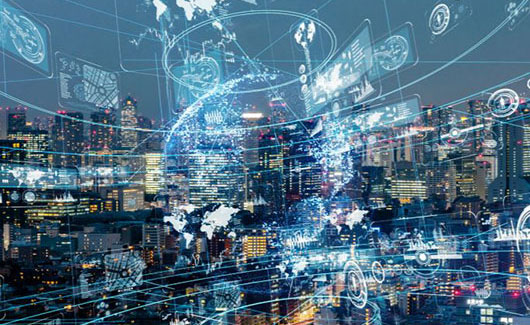 Tyler's Chief Strategy Officer Bruce Graham was recently featured in American City & County magazine, sharing his thoughts on how to redefine the smart cities discussion by encouraging strategic planning around foundational software systems.
Graham notes that many cities, while interested in becoming a smart city, are having trouble achieving that status. Often, their older software systems are not capable of processing, analyzing, or integrating new data sources. In addition, those that make the purchasing decisions tend to evaluate new systems solely on functionality for their respective departments, without considering interoperability with other systems.
The solution, Graham says, lies in breaking down siloes and revolutionizing data sharing to better collaborate, gain insight, increase productivity, and provide information to potential partners. Take Mobile, Alabama, for example. By simply linking the city's police and court records, police department paperwork decreased by 98 percent, and the city saved more than $500,000 annually.
To read more about Tyler's vision for Connected Communities, download our whitepaper.

Tyler CFO Brian Miller comments on Tyler's recent acquisitions and their impact to the company.
With our strong cash flow and balance sheet, we continue to actively pursue strategic acquisitions that support our long-term growth objectives. In the last 12 months, we've completed seven acquisitions for a total of approximately $370 million in cash. Our acquisition of SceneDoc, Inc. on December 7, 2018, provides mobile-first, SaaS field reporting for local law enforcement agencies, enhancing our public safety offerings. On February 1, we acquired MyCivic, a rapidly growing provider of citizen engagement applications, which will enable clients to provide a single app for citizens to interact with their local government. This acquisition will benefit our entire client base as MyCivic has applicability across most of our solution areas.
On February 28, we acquired MicroPact, Inc. The transaction is the second largest acquisition in our history at approximately $185 million in cash. MicroPact is a leading provider of specialized, vertically-oriented case management and business process management applications for government, with annual revenues of more than $70 million. This acquisition augments our product solutions, positions us in new practice areas such as health and human services, and provides a platform to expand our business across new and complementary markets, most notably with the opportunity to significantly expand our total addressable market through MicroPact's strong federal presence.
These acquisitions further our objective of expanding our total addressable market, strengthening our product offerings, providing cross-selling opportunities, and advancing our Connected Communities vision.
We invite investors to learn more about the impact of these acquisitions and hear the latest company news at our Investor Session at Tyler Connect on April 8. For more information and to register, please click here.