Notable Contracts*
Republic of Palau – Munis
Monroe County Dept. of Public Safety, NY – New World public safety
Polk County, IA – Incode financials
The Nature Conservancy, VA – Socrata
City of Miami Gardens, FL – EnerGov
Merit Systems Protection Board – MicroPact

Tyler to unify Maine's judiciary and district attorney's offices with Odyssey solution.
Read more.

Forbes names Tyler one of 'America's Best Midsize Employers' for 2019.
Read more.

Tyler expands school transportation solutions to Ontario, Canada.
Read more.

Tyler's Socrata Connected Government Cloud to help manage state of Maryland data.
Read more.

Four Illinois school districts select Tyler's Infinite Visions ERP solution.
Read more.



Tyler Hosts Record Attendance at Connect Investor Session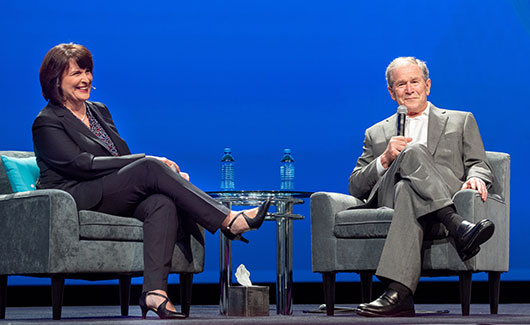 On April 8, Tyler hosted its largest ever group of investors and financial analysts at its Tyler Connect Investor Day. Attendees had the opportunity to hear 11 different presentations from Tyler's division and executive leadership on topics such as Tyler's Connected Communities vision and progress to date, updates from its Enterprise and Justice Groups, and overviews of our Data & Insights Division and MicroPact.
According to Tyler CFO Brian Miller, "Tyler Connect is a good opportunity for investors and stock analysts to get an in-depth look at our business. No other venue brings together so many of our leaders, while also offering our investors a chance to interact with our clients."
Attendees also heard from Tyler President and CEO Lynn Moore, who noted that 2018 was a year of elevated investment in acquisitions, R&D, and stock repurchases. Our acquisitions, in particular those over the past 12 months, will expand Tyler's addressable market and strengthen the company's competitive position.
Tyler's Chief Technology Officer Jeff Green outlined how R&D investments are supporting the Connected Communities vision. Tyler is investing in its existing applications, focusing on user-centered design, growing its internal design and research capacity, and helping clients to surface and analyze data for decision-making.
To view the Investor Day webcast and presentations or read the transcript, please visit this link.

Tyler CFO Brian Miller comments on the company's recent financial results and looks back at milestones over the past year.
Tyler had a strong start to 2019, with total revenues of $247.1 million, up 11.7% from $221.1 million for the first quarter of 2018. Additionally, recurring revenue from maintenance and subscriptions was $167.4 million, up 17.1% compared to the first quarter of 2018, and comprised 67.8% of first quarter 2019 revenue.
In addition to strong financial results, which you can view in its entirety in our recent press release, this month marks the one-year anniversary of Lynn Moore's appointment as Tyler's president and CEO. 2018 marked Lynn's 20th service anniversary with Tyler, and, over the past 12 months, Lynn has been focused on strengthening Tyler's position as leader in the public sector space, guiding the company in the acquisition of five companies between August 2018 and February 2019. Lynn has also played a key role in furthering our Connected Communities vision, working closely with our leadership to help clients discover the advantages of using an entire suite of Tyler products to advance public sector operations. Lynn and our entire senior leadership team work closely with John Marr to continue to build shareholder value through a smooth leadership transition.