Notable Contracts*
Medina County, OH – Odyssey
City of Delaware, OH – Munis
City of Des Plaines, IL – EnerGov
Gallia County, OH – iasWorld
City of Attalla, AL – Incode financials
Jackson County, CO – Eagle

New Mexico enhances data program with Tyler's Socrata solution.
Read more.

Tyler reports earnings for fourth quarter 2019.
Read more.

North Carolina selects Tyler's eCitation solution.
Read more.

Tyler named a Forbes Best Employer for Diversity for 2020.
Read more.

Tyler celebrates advancement toward evidence-based policymaking.
Read more.

City of Oxnard, California, selects Tyler's Munis ERP solution.
Read more.



Tyler Officially Welcomes its Federal Division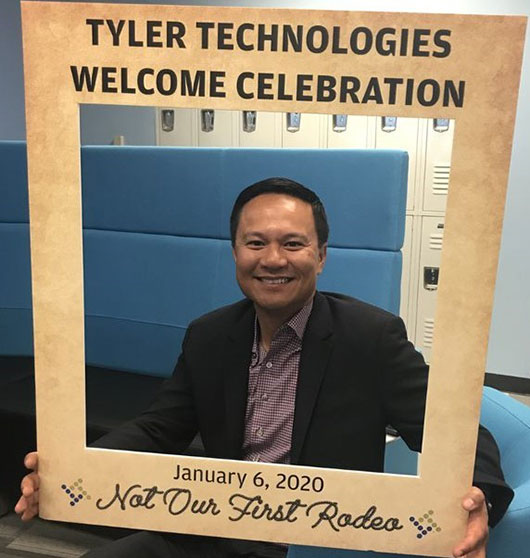 MicroPact, a Virginia-based company that provides specialized, vertically oriented case management and business process management applications for government, was acquired in February 2019; however, integration of Tyler's second-largest acquisition was strategically planned over the remainder of the year. The MicroPact team was officially welcomed as Tyler's newest operating unit, the Federal Division, on January 6, 2020. The addition of MicroPact positions Tyler with new solution areas like health and human services and others within the federal government space and expands the company's addressable market by $2 billion.
Let's take a look at some of the accomplishments since the acquisition:
The Federal Division's development team attended Tyler Mesh, an internal conference for exchanging ideas and fostering communication for development teams across all divisions.
The Federal Division introduced the first federal-contract-compliant business entity to Tyler's operations.
A MicroPact brand awareness survey was conducted in the state and federal markets.
The Data & Insights Division began working with the Federal Division to bolster success of partner sales and enablement.
The integration of MicroPact's product and solution architecture kicked off.
To stay up to date with the latest news about Tyler's Federal Division, be sure to check out Tyler's Resource Center and, particularly, this Q&A with Kris Collo.

Tyler CFO Brian Miller comments on highlights from fourth quarter 2019 earnings and gives his perspective on Tyler's progress throughout the decade.
Tyler closed out 2019 by reaching two major milestones – exceeding $1 billion in annual revenues and $300 million in adjusted EBITDA for the first time. Organic revenue growth accelerated sequentially for the third consecutive quarter, and we achieved double-digit organic revenue growth for the fourth quarter at 10.2%. Bookings were robust at $331 million and grew 33.5% for the quarter (approximately 26% excluding MicroPact) and grew 32.3% for the full year.
To give some perspective on the progress we've made in the past 10 years, we started the decade with revenues of $290 million, of which less than 50% was recurring. In contrast, we finished 2019 with revenues of nearly $1.1 billion, of which 67% was recurring. In the beginning of 2010, our stock price was $20.05 and our market cap was approximately $700 million. We ended 2019 with a stock price of over $300 and a market cap of approximately $12 billion.
While we're proud of our progress over the last 10 years -- and are especially appreciative of the efforts of our extremely talented team of nearly 5,500 professionals -- we're even more excited about the opportunities ahead of us as we build upon our strengths to expand our markets and drive toward $2 billion in revenues.