Tyler launches Assessment Connect solution.
Read more.

Tyler signs statewide agreement with North Carolina for electronic warrants.
Read more.

Jacksonville, FL, selects New World public safety solution from Tyler.
Read more.

Tyler signs agreement with South Carolina for school transportation solutions.
Read more.

Tyler to provide court case management and supervision solutions to Kansas.
Read more.

Winners announced for the 2020 Maine App Challenge. Read more.


Tyler Launches Podcast on Local Government
Topics & Trends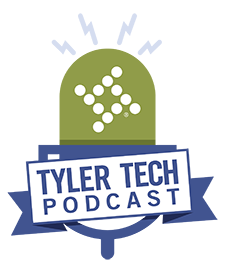 This summer, Tyler launched its very own Tyler Tech Podcast, where complex, important issues facing communities and local government are thoughtfully explored in each episode. Since its launch, the podcast has tackled topics such as generational attitudes toward local government, the latest trends in government technology, and how communities are handling serious issues such as the opioid crisis and coronavirus.
A recent episode, "Putting City Hall in your Smart Phone," features Vice President of Product Strategy TJ Sokoll, who tells the story of how and why he developed MyCivic, a comprehensive, customizable platform designed to promote civic engagement. Another episode, "The Rise of Gen Z" dives into the groundbreaking research on how Gen Z, a generation still being defined, engages with their local government.
The podcast is hosted by Jeff Harrell, Tyler's content marketing director, and features interviews with Tyler clients and third-party experts. A full list of episodes can be accessed on our website and also on popular podcast platforms offered by Apple, Google, Spotify, and Stitcher.
In addition to subscribing to the podcast, you may also be interested in additional stories about how Tyler clients are using technology to serve their citizens.

Tyler CFO Brian Miller comments on the company's recent inclusion in the S&P 500 index.
We were both surprised and honored to learn in late June that Tyler was to join the S&P 500. We had no idea that Tyler was being considered for inclusion in this important index. In fact, we only learned of it when S&P Dow Jones emailed us with a copy of their press release announcing this year's index changes, including Tyler's move from the S&P MidCap 400 to the S&P 500.
The S&P 500 is an important barometer of the U.S. financial markets and the broader economy, and our inclusion is a major milestone in Tyler's history. This addition is a testament to Tyler's success and momentum and reflects tremendous effort over the last two decades by Tyler's entire team of professionals dedicated to serving the public sector. We believe that Tyler is the first pure government technology company to be included in the S&P 500.
Because there is over $9.9 trillion indexed or benchmarked to the S&P 500, with indexed assets comprising approximately $3.4 trillion of this total, our inclusion created an increase in trading volume as indexes rebalanced. In the longer term, we expect to have greater visibility among a wider range of investors as the result of our addition to the index.
It's interesting from a historical perspective to see how far Tyler has come over the last two decades. For example, Tyler's stock price at June 30, 2000, was $2.94 and our market cap was $137 million. At June 30, 2020, our stock price was $339.86 and our market cap was $13.7 billion. Trailing twelve months revenues have grown from $127 million in June 2000 to $1.11 billion today, and our balance sheet has grown from $9 million in cash and $83 million of debt in 2000 to almost $500 million in cash and investments and no debt today.