Notable Contracts*
City of Jacksonville, FL – EnerGov
City of El Cajon, CA – Munis
Savannah Police Department, GA – Incode public safety
Catron County, NM – Eagle
City of Groveland, FL – Incode financials
Cleveland Municipal Court, OH – Odyssey
Juneau School District, AK – Infinite Visions

Tyler signs statewide agreement with Nevada for Tyler Supervision.
Read more.

State of Alaska goes live with Tyler's Socrata solution.
Read more.

Washington state selects case management and supervision solutions from Tyler.
Read more.

Indianapolis Public Schools goes live with Tyler's ERP solution.
Read more.

Tyler improves computer-aided dispatch process for Port of Long Beach, California.
Read more.

Tyler improves citizen access for Iowa City, Iowa.
Read more.


Tyler Clients Demonstrate Resiliency in 2020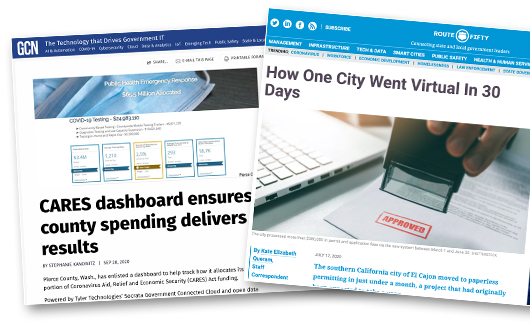 It goes without saying that 2020 has been a year unlike any other. The coronavirus pandemic has impacted daily life for us all, including how it has affected the way our local government clients interact with their communities. We wanted to showcase a few highlights from this year and recognize some of our clients for going above and beyond to serve their constituents in new and innovative ways.
Looking for more inspiring client stories from this year? Be sure to check out the Tyler Resource Center here.

Tyler CFO Brian Miller reflects on the unique circumstances of 2020 and how Tyler has risen to meet our clients' needs.
As we enter the final month of 2020, we reflect on the challenges and successes of the year, as well as what we have learned from them as we turn our focus to 2021. The environment we're in as a result of the coronavirus pandemic is making it abundantly clear, if it wasn't already, that governments need our help with modernizing mission-critical systems now more than ever. The shift to a remote work environment has exposed even more weaknesses in many aging government systems, making it more difficult to provide essential services at a time when the public needs them the most.
Tyler has continued to invest and innovate throughout 2020, bringing solutions to market like Tyler Virtual Court to help clients deal with new challenges. Our years of prudent management have positioned us to be able to continue to invest at a high level, despite the challenges of 2020. With approximately $700 million in cash and investments and no debt, we've continued to add staff throughout the year and are moving forward with all of our strategic initiatives, including our accelerated move to the cloud – which is in stark contrast to some of our competitors. Who could have imagined a year in which the effects of a pandemic caused us to lower our revenue guidance by $91 million, or 7.5%, at the midpoint, but expand margins and only reduce earnings guidance by a little over 2%, all without cutting staff or investments?
Tyler's team of professionals is second to none. Our senior leadership team has been constantly amazed and inspired, but not surprised, by the resilience, creativity, and fortitude that our 5,500 team members have exhibited in facing the challenges of 2020 head on. Forty percent of our employees have previously worked in the public sector, and all of us are singularly focused on enabling the public sector to better serve its constituents, especially as we head into 2021.