Notable Contracts*
City of Irving, TX –
Munis
Knox County, TN – iasWorld CAMA
Wyoming Highway Patrol, WY – New World (public safety)
Forsyth County, GA – EnerGov
Tulsa Technology Center, OK – Infinite Visions

Tyler to provide mass appraisal and tax software for Anchorage, Alaska.
Read more.

Travis County, Texas, first in state to select Tyler's Modria solution.
Read more.

Tyler advances Traversa routing solution with Multi-District Model.
Read more.

City of Atlanta, Georgia, selects Tyler's EnerGov solution.
Read more.

Tyler announces its Q2 2018 earnings.
Read more.
Tyler Discusses "Access to Justice for All" at
NACo Conference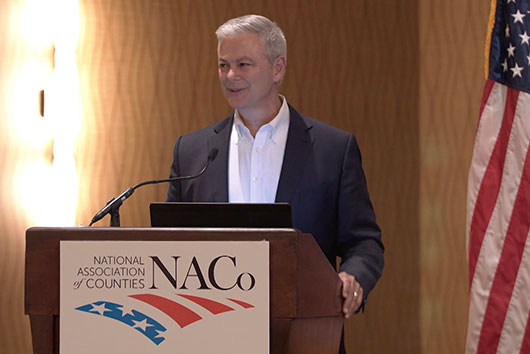 On July 13, Tyler's Chief Strategy Officer Bruce Graham served as a keynote speaker for the Smarter Counties Summit at the National Association of Counties (NACo) conference in Nashville, Tennessee. Graham spoke to the importance of sharing information across justice and human services systems to provide help for those in need, as those most needing access to justice are typically the ones that have the least access to it.
By simplifying the legal process through technology, it becomes more accessible for everyone. Tyler's solutions such as Odyssey Guide & File and Modria online dispute resolution are two ways Tyler is making legal processes more simplified, easier to understand, and accessible to everyone, regardless of economic background or familiarity with the legal system. Watch the full presentation here.
Recent Accolades
Tyler was named a finalist in the 2018 Tech Titans awards in the "Corporate Innovation" category. Tech Titans is the largest technology trade association in Texas.
Tyler was named to Forbes' 'Best Employers for Women' list.
Many Tyler clients were named as winners of GovTech's Center for Digital Government Annual Digital Counties Awards. Read more about each winner here.

Tyler CFO Brian Miller comments on Tyler's approach to and initial successes with international expansion.
While the majority of our revenues are generated domestically, we do expect to grow international revenues in the coming years. Global expansion is one source of the incremental revenues we need to achieve double-digit growth. We want to pursue international opportunities that make sense, without detracting from our ability to take advantage of the long runway of growth available to us domestically.
Many of those logical international markets are in British Commonwealth countries – places that are generally English-speaking and share similar justice and tax structures with the United States, thereby limiting the incremental development effort associated with entering those markets. We also look for markets where there are not already competitive off-the-shelf vertical solutions.
We've had initial success in taking abroad certain Tyler solutions that are clear industry leaders in the U.S. For example, we went live with our Odyssey case management solution in the Northern Territory of Australia last year, and have since expanded that relationship to add additional courts in 2018. We believe that the courts and justice market in Australia and New Zealand will have additional opportunities over the next few years, and we are actively pursuing some of those today.
Our cloud-based solutions, including e-filing for courts, online dispute resolution (ODR), and our Socrata data-as-a-service platform, represent some particularly compelling opportunities for international growth. We signed a contract in Q2 2018 to provide our Modria ODR software in New Zealand, and are already providing e-filing in the courts in the Northern Territory. Socrata, which we acquired in April, already has clients in a number of international locations, including Canada, the United Kingdom and Spain.